Engineered Wood Flooring is Here to Stay
July 29, 2018
When we hear about engineered wood for the first time, we think of plywood or chipboard. We know that they are wood products that are made for specific applications and we know that we would not like our wood floors to look like plywood or to show wear like chipboard. What's wrong with solid hardwood flooring? Why do we need engineered wood flooring?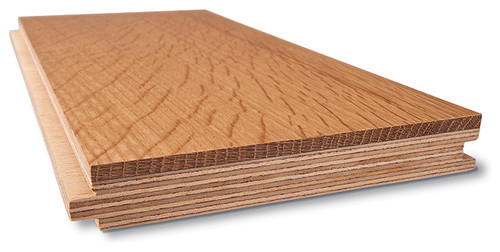 Think of standard home construction.  The framing is made up of a pattern of perpendicular wood pieces.  If there is a large expanse of wood or metal, its weight is supported by a perpendicular piece. Engineered flooring works the same way. The the top layer of wood, called the wear layer, is identical to traditional hardwood flooring, just a bit thinner.  But the layers underneath are arranged for greater stability.
Below the wear layer is a series of perpendicular layers. The number of layers and composition varies greatly between manufacturers. MacDonald Hardwoods carries a handful of top-quality engineered hardwoods that have a thick hardwood wear layer and several layers that consist of scrap hardwood and other materials.
The main advantage of engineered hardwood is that it provides increased strength and stability. Because the Front Range region is extremely dry, there are some woods that are not recommended here because their native climate is very humid. The layered construction of engineered hardwood may make it possible to use some woods here that would otherwise have been unstable.
In addition, engineered hardwood uses less top-quality wood, making use of wood that might otherwise go to waste. Because the wear layer is not as thick as traditional flooring, more planks can be made from the same amount of wood. The hidden layers, then, can be made up of less presentable woods that has traditionally been scrapped.
The appearance of the wear layer of the engineered hardwoods is exactly the same as that of traditional hardwood flooring. It comes in essentially the same variety of species, textures, and colors; traditional, distressed, scraped, and whitewashed.  Any finish or treatment found in solid hardwoods is also possible with engineered hardwood.
When either a solid hardwood floor or an engineered hardwood floor begins to show wear, the homeowner can simply screen the surface and add a new finish. This will eliminate the appearance of any scratches or minor dents. If a change in color is desired, either can be sanded down and refinished, although it will be possible to refinish a solid hardwood floor 2-3 more times than an engineered floor because the wear layer is not as thick.
Solid hardwood flooring is nailed down, so it must be installed over a wood subfloor, usually a plywood base. Before engineered flooring, it was not possible to install a hardwood floor in a basement or any room that had a concrete floor. Engineered flooring can be glued down on any smooth and even surface. This greatly expands the possibilities for residential and commercial wood floors.
Before making any buying decisions that involve engineered wood, be sure to ask to see a sample of the wood itself. A good engineered hardwood floor will have a thick wear layer made of quality hardwood. There are some manufacturers who produce engineered wood with a very thin wear layer that will wear out quickly, exposing the unfinished layers beneath. On average, a quality engineered wood floor will cost about the same as a solid hardwood floor.
Because there is more and more focus on the availability and sustainability of raw materials, the demand for engineered hardwood flooring continues to grow.  Over the past 15 years, MacDonald Hardwoods has expanded our lines of top-quality engineered hardwood flooring from one manufacturer to eight, and we continue to look for the best flooring to meet the needs of our customers.